Reblogged By: La Tray
Source: Daily Mail
Media: Daily Mail via Ashlee Simpson Twitter / Second Photo Ashlee Simpson Twitter

Posted: Monday January 13, 2014 @ 9:42 p.m. PST
They are believed to have started dating in June 2013 but things have moved quickly for Ashlee Simpson and Evan Ross.
The son of legendary singer Diana Ross proposed to his girlfriend of seven months while on a Hawaiian holiday and Ashlee took to Twitter on Monday to share the happy news and a picture of the huge engagement ring.
She captioned an unsmiling snap of the duo, where her rock is clearly visible, 'My baby love and I are ENGAGED!!! Hallelujah Hawaii !!!!! (sic).'
Engaged: Ashlee Simpson is over the moon as Evan Ross proposed after just seven months of dating while on a Hawaiian getaway and she took to Twitter to show off the ring
Evan posted the same picture but wrote: 'The love of my life said YES!!!!!! (sic).'
Evan, 25, spoke of his desire to marry 29-year-old Ashlee – who has a son Bronx Mowgli, five with her former husband Pete Wentz – in November when he called her 'the one'.
Excited: Ashlee took to Twitter to share her joy with her followers on Monday
Serious: The duo – who started dating in June – got serious very quickly and by the time they attended the Catching Fire premiere together in November (pictured), Evan was talking marriage
He told omg! Insider: 'I'm so in love and we've got amazing things going on.
'And we inspire each other. She's the one.'
He added that he could see wedding bells in their future 'for sure'.
Ashlee – who divorced rocker Peter Wentz in 2011 – met Evan's legendary mother Diana, 69, in August after her sell-out performance with the LA Philharmonic at the Hollywood Bowl.
Nervous: Ashlee was reportedly anxious about meeting Evan's mother, legendary singer Diana Ross, in August but soon got the seal of approval
Ashlee – who attended the concert – was said to be understandably nervous about the encounter.
But according to the New York Post's Page Six, she needn't have worried.
The newspaper said a fellow guest overheard Ashlee saying that she was 'nervous . . . but Diana is wonderful and very open.'
Others described Diana's youngest son and his girlfriend looking happy and relaxed.
They were spotted dancing and kissing and even heard discussing plans to travel to Europe together.
An onlooker who overheard the couple's conversation told People.com: 'Ashlee was talking about traveling soon with Evan. They were very affectionate.'
The source also revealed: 'She was nice and said hello to Diana. Everyone was in a good mood and Ashlee just blended in as Diana's son's girlfriend.'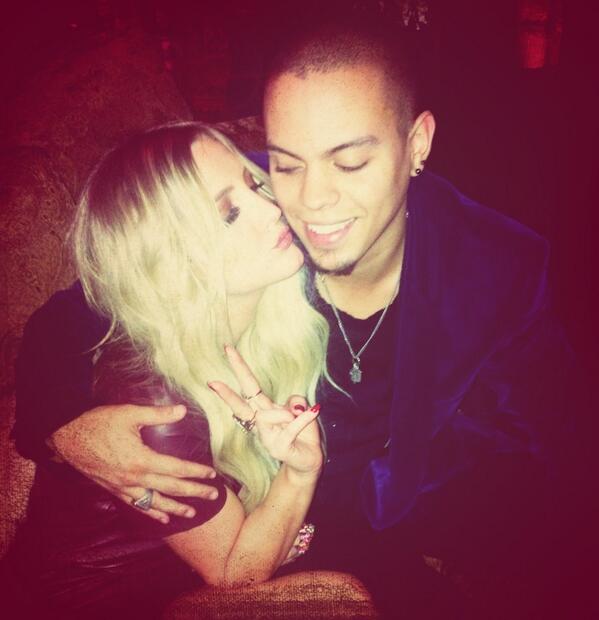 TO VIEW MORE PHOTOS: ASHLEE SIMPSON AND EVAN ROSS