Reblogged By: De De Tillman; Asian Celebrity Re-Blogger
Media:Koreanboo – Pann
Posted:Tuesday October 27, 2015 @5:01 a.m PST
On a popular Korean community site called "Pann" netizens were surprised by JYJ Junsu's extremely provocative performance on stage during a concert that was rated 12 and above.
Originally titled "A singer's 19+ performance at an all rated concert" the article featured fan taken pictures and gifs of Junsu's controversial performance at his recent solo concert.
Find out what Netizens had to say about this article below!
The original poster stated "Xia Junsu…This is too much….apparently it's a 12 and above concert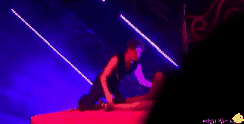 *Used With Permission